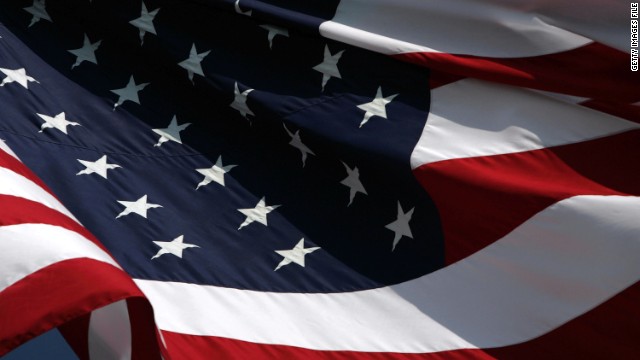 (CNN)Why wasn't the teacher arrested?
The flag is racist, the boy explained,
according to local reporting
from Bay 9 News — a growing sentiment shared by black and brown people of all ages, who are increasingly disillusioned by America's empty promises and pledges of "liberty and justice for all."
The substitute teacher had many options here: Ignore the student, let him sit quietly and continue the pledge (as is his right in this school district), engage in a discussion about the pledge and why a student may find it racist, talk to the student after class.
She instead chose to be a bully: arguing with the boy, essentially telling him if you don't like it here, you can always go back to where you came from. Apparently, the teacher, who said she emigrated from Cuba, missed the history lessons about those who emigrate to America from their homeland and the Africans who were hunted down, kidnapped from many nations, and sold into slavery in America. Big difference.
Though Lakeland students are not mandated to say the pledge, the boy was removed from class, arrested and charged with disruption of a school facility and resisting an officer without violence.
The school district said
that the student was arrested for becoming disruptive (and Lakeland police said the student made threats, which he denies, as he was escorted to the office), not for refusing to say the pledge. The school district
also said
in a statement "We do not condone the substitute's behavior."
The teacher was asked
to leave campus immediately and has been banned from ever working in the Lakeland school district again — though that's no guarantee she won't resurface someplace else. And the student's mother, Dhakira Talbot, is calling for the charges to be dropped. Good move. But I think the teacher should face harsher punishment.
Arrest her, too.
Maybe it's time to use these anti-bullying laws to protect students from teachers who bully, too. Get rid of teachers who abuse their power and humiliate our children. Because, though a majority of teachers are dedicated, well-meaning mentors, rogue teachers are a threat. And the damage they do is often irreparable.
Unfortunately, these classroom assaults against black and brown students are nothing new. When my son was in school, I was a constant presence in the classroom — PTA officer, classroom mom. I used my lunch hour to serve as a cafeteria monitor.
Now, I could lie and say that I did all this volunteering to support the school system, or because I love kids. But truth is, I did not trust the mostly white teachers, even in New York City, to treat my son, or, the other students of color, equally. I understood that black and brown children are disproportionally labeled as low performers and problem students often before they even learn to read.
Those labels follow a student
throughout their educational experience.
Public or private school (my son attended both), the worries were the same. And though I believe most teachers are positive influences in a student's life, the battle to shield your child from bigotry in the classroom is never-ending.
Being a black parent means giving your children a crash course in racism 101, starting in kindergarten. It's heartbreaking, but we cannot leave our kids unprotected. So, we arm them with black history facts and tell them they are beautiful and smart. And we become detectives, sniffing out even the slightest suggestion of schoolhouse bias before it does irreparable harm.
Weekly, I'd ask my son: "Does your teacher say bad things about black people? Does anyone in class make fun of your hair? Did she help you understand your math homework? Is your teacher nice to you?" And when the answers were concerning, I was at that school quickly dealing with any issues.
That's why it broke my heart
when I read the Lakeland student
told the teacher, "they brought me here" after she suggested that if he didn't like America enough to say the pledge he should go back to Africa. I knew that little boy was fighting back the best way he could, using his words to defend himself. Telling that teacher he understood the difference between immigrants and slaves. He knew his history. He knew people who looked like him did not yet have full liberty and justice in America.
This why Colin Kaepernick matters. Our kids are watching him and other activists who tell young people #BlackLivesMatter, and to #Resist hate and racism. Those voices are empowering. Parents and students of all ages are calling out and challenging systemic racism and bigotry when they see it. I'm proud of that Lakeland 6th grader for having the courage to take a stand against injustice.
"I pledge allegiance to the flag of the United States of America, and to the republic for which it stands, one nation under God, indivisible, with liberty and justice for all."
Beautiful words. Hopefully, one day they will ring true, but today is not that day.
Original Article : HERE ; This post was curated & posted using : RealSpecific
Thank you for taking the time to read our article.

If you enjoyed our content, we'd really appreciate some "love" with a share or two.

And ... Don't forget to have fun!