Life's not fair: it's dark and cruel and still over THREE months until we get to see The Lion King in theaters!
Thankfully, Disney decided to hold fans over by releasing the first full trailer of its latest "live action" remake. Yes… (Rafiki voice) it is time!
Video: Beyoncé Drops Trailer For Netflix Doc 'Homecoming'
The official trailer offers a greater look into the sweltering savannah that we already know and love. Several iconic shots from the original film are ready for nostalgic consumption: Simba (Donald Glover) quite literally following in his father's large footsteps, the terrifying stampede in the gorge, and a grown-ish Simba frolicking through the wilderness with a DTF Nala (Beyoncé *Knowles-Carter*).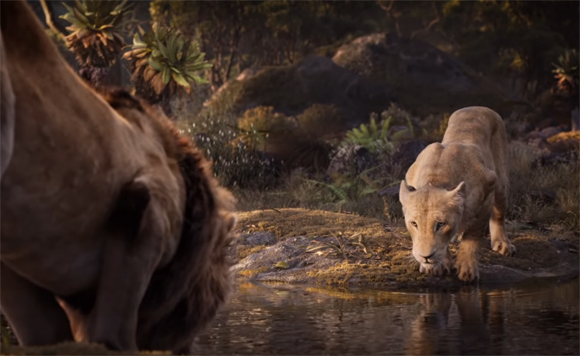 We still don't actually HEAR what Glover sounds like as young or old Simba, nor Queen Bey as Nala. We do, however, get an ominous voice-over from Uncle Scar (Chiwetel Ejiofor) and a not quite as ominous but tragic nonetheless because we already know what's going to happen to him voice-over from Mufasa (James Earl Jones) about taking one's place in the — all together now — *circle of life*.
Sweeping shots of the Pride Lands, antelope antelope-ing, and baboons pondering off into the distance pair nicely with said voice overs, making this under two-minute clip perfect bait for all the nostalgia hounds who are ready to devour their next remade dish… that isn't Aladdin.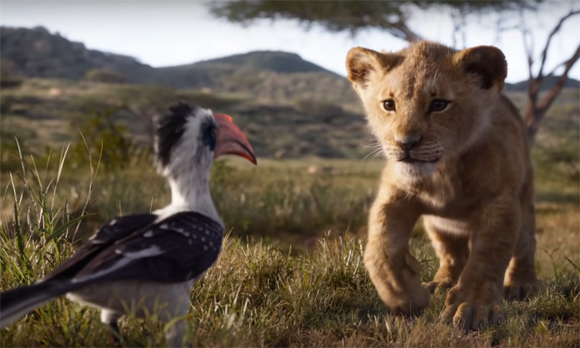 Except for a few unimpressed hyenas, Twitter was generally feeling the love for The Lion King's new trailer. Many couldn't help but pounce with excitement over the incredible visuals, the inevitable heartbreak from a certain post-stampede scene, and quite possibly the trailer's (heck… the FILM'S) crowning moment: Timon (Billy Eichner) and Pumbaa (Seth Rogen) singing their infamous rendition of The Lion Sleeps Tonight.
Video: Twitter Is TERRIFIED Of Joaquin Phoenix In The 'Joker' Trailer
Ch-ch-check out the full trailer (above) and see some mixed reactions (below) — then share YOUR thoughts in the comments!
Most viewers were delighted:
The new Lion King looks so good Mufasa, Timon and Pumbaa and…#TheLionKing pic.twitter.com/Ky81X8J2Hy

— JES (@Jeesseessee) April 10, 2019
Timon and Pumbaa singing "The Lion Sleeps Tonight" in the new #LionKing trailer is cinematic excellence. pic.twitter.com/juV6d7JuaZ

— Isha (@Isha__mistry) April 10, 2019
Watches the new #LionKing trailer on loop the entire day pic.twitter.com/mWHAJEEb4h

— Matthew A. Cherry (@MatthewACherry) April 10, 2019
Side-by-side of the famous clip of Simba growing up in the 2019 'The Lion King' vs. the original 1994 movie. #TheLionKing pic.twitter.com/nMY0fCm6Li

— Lights, Camera, Pod (@LightsCameraPod) April 10, 2019
JUST IN: The Lion King (Live Action Film) Official Motion Picture Soundtrack will be TIDAL EXCLUSIVE. pic.twitter.com/wWBvA6F5H9

— JIMMY KHALO⚡️#HOMECOMING (@kimmillave) April 10, 2019
I kinda wish the Lion King trailer ended with Nala telling Scar that 'it's better for you to go home than to not have luggage' but what can you do.

— Matthew A. Cherry (@MatthewACherry) April 10, 2019
If the new live-action Lion King changes a single thing about this sequence I will sue pic.twitter.com/r9aMGGsbWf

— Scott (@scotty_ski) April 10, 2019
In this home we don't shit talk the lion king remake, I don't care how you feel about remakes, I accept any and all lion king content, don't speak negatively to me about it 👹

— 🌸サンティ🌸 (@SantiWoof) April 10, 2019
As much as I hate all these cash cow remakes, I do have to admit that the Lion King looks amazing. They did a great job

— lexi 💜 (@bangtcnism) April 10, 2019
But not everyone was roaring with excitement:
instead of the Pride Lands, the new Lion King is set in the Uncanny Valley

— Sam Adams (@SamuelAAdams) April 10, 2019
I don't want to come across as a hater or someone who is nostalgia blind. I know that a lot of people are really looking forward to The Lion King remake and more power to them. I am most likely going to skip this one and stick to the original, which still holds up today. pic.twitter.com/aon69nrsEA

— Crimson Mayhem (@mayhem_crimson) April 10, 2019
Especially those who felt Scar wasn't… well, Scar-y enough:
part of me is super excited for the lion king movie bc the lion king is my fave disney movie alongside bambi but. this isn't scar. why doesn't he have a black mane and darker fur. if you showed this to someone they wouldn't guess this was scar pic.twitter.com/JKJ2b3ycJA

— 🌻Milo🔜FWA🌻 (@OatmeaIo) April 10, 2019
What do U think, Perezious readers? Are you excited for The Lion King remake, or are you running away and never returning?
The Lion King roars into theaters on July 19, 2019!
[Image via Walt Disney Studios]
Original Article : HERE ; This post was curated & posted using : RealSpecific
Thank you for taking the time to read our article.

If you enjoyed our content, we'd really appreciate some "love" with a share or two.

And ... Don't forget to have fun!