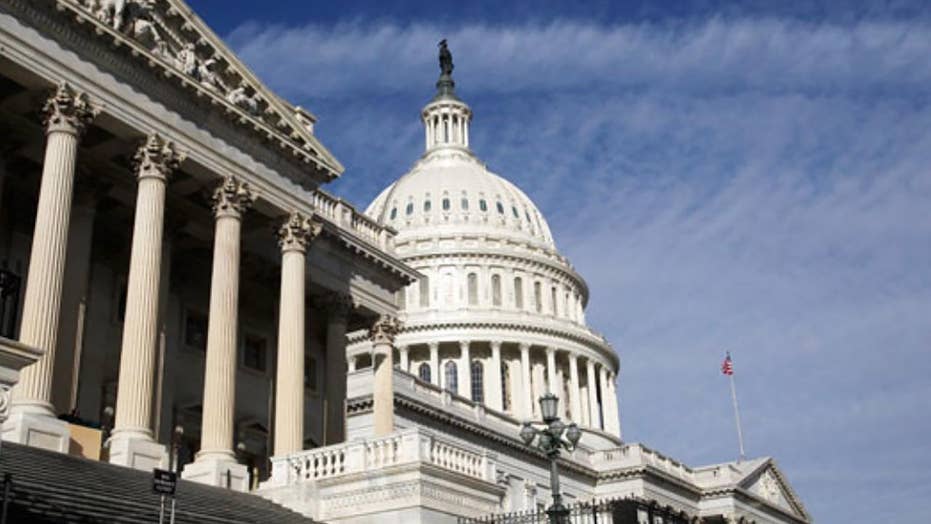 **Want FOX News Halftime Report in your inbox every day? Sign up
here
.**
On the roster: White House sounding less proud about shutdown – It's McSally after all – Trump campaign to absorb RNC – Jeffries tops Ocasio-Cortez hit list for 2020 primaries – So you're saying they're not going to live on a farm?
WHITE HOUSE SOUNDING LESS PROUD ABOUT SHUTDOWN
WaPo: "President Trump on Tuesday retreated from his demand for $5 billion to build a border wall, as congressional Republicans maneuvered to avoid a partial government shutdown before funding expires at the end of Friday. But Democrats immediately rejected Republicans' follow-up offer, leaving the two sides still at impasse as hundreds of thousands of federal workers await word on whether they will be sent home without pay just before Christmas. White House press secretary Sarah Sanders on Tuesday said Trump did not want a government shutdown and that the administration had identified 'other ways' to fund a wall along the U.S.-Mexico border. Sanders' comments Tuesday reflect a significant shift from when Trump last week told Democratic leaders he would be 'proud' to shut down the government to get border wall funding. 'We have other ways that we can get to that $5 billion,' Sanders said on Fox News."
Criminal justice bill passes first test vote in Senate – AP: "Legislation that would ease federal sentencing laws for some offenders cleared its first major test vote Monday, garnering overwhelming support in both parties even as some conservatives portrayed the bill as soft on crime. The Senate voted 82-12 to advance the bill. A vote on final passage would come later in the week, but not until the chamber has debated and voted on a series of amendments from opponents that will be brought up Tuesday. The bill would give judges more discretion when sentencing drug offenders and allow about 2,600 federal prisoners sentenced for crack cocaine offenses before August 2010 the opportunity to petition for a reduced penalty. The bill also encourages prisoners to participate in programs designed to reduce the risk of recidivism, with the reward being the accumulation of credits that can be used to gain an earlier release to a halfway house or home confinement to finish out their sentence."
House GOP readies Hail Mary on year-end tax cuts – Roll Call: "House Republicans will try again this week to pass a year-end package of tax cuts after revamping the measure a second time to win broader political support. The latest version of the bill restores an extension of two expired tax breaks: one for a biodiesel tax credit and another for a railroad track maintenance credit. The biodiesel credit, which would be extended and then phased out by 2024, was a particular priority for Sen. Charles E. Grassley of Iowa, the likely chairman next year of the Senate Finance Committee. The House Rules Committee plans to act on the bill Wednesday, a move that could clear the way for a floor vote as early as Thursday. But there was no guarantee of a floor vote in an already turbulent year-end calendar amid concerns of lame-duck lawmakers fleeing the Capitol prematurely. And with the clock ticking toward a partial government shutdown starting Saturday morning, it might find itself the vehicle for whatever end-game appropriations parliamentary maneuvers are needed."
GOP may tack pro-Israel measure onto spending bill – NYT: "Just days away from a partial government shutdown, lawmakers are weighing adding a contentious measure to a stymied spending package that would keep American companies from participating in boycotts — primarily against Israel — that are being carried out by international organizations. … The bill, known as the Israel Anti-Boycott Act, is one of several pieces of pet legislation that lawmakers are advocating in the final days of the session, hoping to add to a package of seven spending bills that need to pass to keep the government fully funded past Friday."
THE RULEBOOK: TEAMWORK MAKES THE DREAM WORK
"The reason of man, like man himself, is timid and cautious when left alone, and acquires firmness and confidence in proportion to the number with which it is associated." – Alexander Hamilton or James Madison, Federalist No. 49
TIME OUT: FAR FROM A FLOP
Voice of America: "Our story begins at the Mariinsky Theatre in St. Petersburg, Russia on December 18th, 1892. People have come to see the first performance of 'The Nutcracker.' Peter Ilyich Tchaikovsky wrote the music and Marius Petipa and Lev Ivanov created the ballet's dance movements. The ballet was based on a story called 'The Nutcracker and the Mouse King' by the German writer E.T.A. Hoffmann. The French writer Alexandre Dumas later rewrote Hoffman's story. Tchaikovsky did not much like the ballet or story of 'The Nutcracker.' He reportedly wrote to a friend that the music he was writing was far worse than the music for his earlier ballet, 'The Sleeping Beauty.' Many of the people watching "The Nutcracker" that night did not like the ballet either and criticized it. … Tchaikovsky probably would not have believed that his ballet would one day become an international success. He did not live long enough to find out. He died in 1893 at the age of 53."
Flag on the play? – Email us at HALFTIMEREPORT@FOXNEWS.COM with your tips, comments or questions.
SCOREBOARD
Trump job performance
Average approval: 42 percent
Average disapproval: 53 percent
Net Score: -11 points
Change from one week ago: down 0.2 points
[Average includes: Gallup: 38% approve – 57% disapprove; NBC/WSJ: 43% approve – 54% disapprove; Fox News: 46% approve – 52% disapprove; CNN: 40% approve – 53% disapprove; NPR/PBS/Marist: 43% approve – 49% disapprove.]
**and now, for this important commercial message**
Consider yourself an Influencer? Become a trusted advisor in our FOX News community and help guide our brand's future. Click here to find out how.
Members of FOX News Influencers have the opportunity to be heard, be part of a special network of peers and influence new initiatives. What's more, you'll receive updates on how your input has made an impact.
Fill out our qualification survey and join us. Thank you for your continued support in our company's growth.
**we now return you to our regularly scheduled political palaver**
IT'S MCSALLY AFTER ALL
Fox News: "Republican Rep. Martha McSally, just weeks after losing one of the midterms' tightest and most contentious Senate races, was appointed by Arizona Gov. Doug Ducey on Tuesday to fill the state's other U.S. Senate seat. McSally will serve for at least the next two years in the seat that was held by longtime Arizona Sen. John McCain until his death in August. 'With her experience and long record of service, Martha is uniquely qualified to step up and fight for Arizona's interests in the U.S. Senate,' Ducey said in a statement. Ducey had appointed former Sen. Jon Kyl to the seat in September, but Kyl, after serving for several months, announced plans to resign at the end of the year. According to Ducey's office, Kyl's resignation will be effective Dec. 31. McSally was defeated by Democratic Rep. Kyrsten Sinema in this year's midterm election for the seat held by retiring GOP Sen. Jeff Flake."
TRUMP CAMPAIGN TO ABSORB RNC
Politico: "President Donald Trump is planning to roll out an unprecedented structure for his 2020 reelection, a streamlined organization that incorporates the Republican National Committee and the president's campaign into a single entity. It's a stark expression of Trump's stranglehold over the Republican Party: Traditionally, a presidential reelection committee has worked in tandem with the national party committee, not subsumed it. Under the plan, which has been in the works for several weeks, the Trump reelection campaign and the RNC will merge their field and fundraising programs into a joint outfit dubbed Trump Victory. The two teams will also share office space rather than operate out of separate buildings, as has been custom. The goal is to create a single, seamless organization that moves quickly, saves resources, and — perhaps most crucially — minimizes staff overlap and the kind of infighting that marked the 2016 relationship between the Trump campaign and the party. While a splintered field of Democrats fight for the nomination, Republicans expect to gain an organizational advantage."
Dems confront data deficit – Fox News: "Democrats are on a high after winning back the House last month, but they have a looming problem they know they need to address: data. Specifically, getting all their voter data under one proverbial roof. Heading into 2018, Democrats made a concerted effort to build a voter database that could compete with President Trump's campaign operation and the sophisticated data-sharing program they have with the Republican National Committee. But, the Democratic National Committee is looking to take that a step further by unifying its data under one for-profit operation – but it's prompted pushback among state party leaders…"
JEFFRIES TOPS OCASIO-CORTEZ HIT LIST FOR 2020 PRIMARIES
Politico: "Rep.-elect Alexandria Ocasio-Cortez is eyeing a new member of House Democratic leadership as a 2020 primary target: Rep. Hakeem Jeffries (D-N.Y.). Ocasio-Cortez, who ousted House Democratic Caucus Chairman Joe Crowley earlier this year in a shocking primary victory, put colleagues on notice for future primaries just days after the November election, telling a livestream audience that she and an allied group, Justice Democrats, would keep working together to boost anti-incumbent challengers — though she didn't name names. But a person who has discussed the project with Ocasio-Cortez and her team said the congresswoman-elect has recruited an African-American woman to challenge Jeffries, who was just elected to replace Crowley as caucus chairman — the No. 5 House Democratic leadership position. The person who spoke with Ocasio-Cortez and her team, who asked for anonymity to discuss a private conversation, called Jeffries the 'highest priority' primary target of Ocasio-Cortez. A second person with direct knowledge of Justice Democrats' primary plans said the group is 'looking' at Jeffries' seat. Since Justice Democrats put out a call for potential targets, the group's supporters have singled out Jeffries as a member they would be 'excited' to oppose."
Dems eye 2020 challenge to Kansas' Roberts – McClatchy: "Sen. Pat Roberts looks vulnerable to Democrats — and some Republicans, and that's a big reason the 2020 race has quickly drawn a prominent potential challenger, former U. S. Attorney for Kansas Barry Grissom. Grissom confirmed Monday that he's been considering a run for U.S. Senate as a Democrat for roughly a year. He's not officially made his decision, but he's actively is laying the groundwork to mount a challenge against Roberts, the Kansas Republican who has been in Congress for nearly four decades. Based on Kansas' history and voter makeup, Roberts' seat should be safe. But the 82-year-old Republican is not assured a fifth Senate term. Roberts survived a primary challenge in 2014 with less than 50 percent of the vote, as first-time candidate Milton Wolf pulled within 8 percentage points by questioning the senator's conservative credentials and attacking him for not spending enough time in Kansas. Roberts needed a flood of national money to power him through the general election."
N.C. GOP GETS IN LINE BEHIND WINNER OF TAINTED VOTE
[Raleigh] News&Observer: "North Carolina Republicans rallied behind 9th District congressional candidate Mark Harris on Monday ahead of a trial-like hearing on allegations of voter fraud that could nullify his victory. … Meanwhile the state board of elections Monday issued guidelines for the Jan. 11 hearing that will feature witnesses and cross-examinations by attorneys. The hearing will take place in the courtroom of the North Carolina State Bar in Raleigh. Harris's victory over Democrat Dan McCready in the 9th Congressional District has been clouded by a probe into allegations involving absentee ballots in Bladen County. The state board declined to certify Harris's election and could order a new election. The hearing will take place a week after a new, Democratic-controlled Congress takes over on Jan. 3. And two Democratic members of Congress from North Carolina said Monday they don't expect Harris to be seated."
Cooper plans to veto bill for race redo – AP: "North Carolina's governor says he's vetoing legislation directing new elections if fraud is found in a disputed U.S. House race because the hastily approved bill also adds new cover for lobbyists and people who violate campaign finance laws. Democratic Gov. Roy Cooper said Tuesday he'll sign the legislation if state lawmakers remove the section. Cooper objects to details like requiring that state elections officials refer apparent campaign finance crimes to a separate commission for a confidential review on whether prosecutors are notified. The bill also would require new primary elections besides a new general election if mishandled ballots or other problems cast doubt on the true result in the 9th Congressional District race and force a redo."
JUDGE IN FLYNN SENTENCING ADDS MORE DRAMA
Fox News: "A federal judge delayed sentencing once again for former national security adviser Michael Flynn on Tuesday, pushing off the case after a dramatic hearing. Flynn pleaded guilty more than a year ago to making false statements to the FBI. During the sentencing hearing, U.S. District Judge Emmet G. Sullivan tore into the defendant for his other alleged misdeeds. Sullivan called Flynn and his attorneys to the stand and asked a series of questions to ensure Flynn did in fact want to plead guilty. Flynn said he did not want to withdraw his plea. Later in the hearing, though, Sullivan ripped into Flynn, calling his plea 'very serious.' The judge even asked prosecutors if Flynn could have been charged with treason, which they hesitated to answer. 'Arguably, you sold your country out,' Sullivan told Flynn, saying he would not hide his 'disgust' or 'disdain' for the offense. The court then went into a brief recess. After returning, Flynn's lawyers took up the judge on an offer to delay proceedings. Sullivan set a conference hearing for March 13."
PLAY-BY-PLAY
Trump to dole out more taxpayer cash to farmers hit by his tariffs – WSJ
Trump shutters his foundation in deal to get authorities to drop fraud probe – WaPo
AUDIBLE: SO WHATCHADOIN?
"She's not calling me to ask about the weather or my Christmas plans." –Tri-County [Iowa] Democrats Chairman Kurt Meyer, told the Des Moines Register, about a phone call he received from Sen. Elizabeth Warren, D-Mass., in early December. The senator has been calling Iowa Democrats as she makes a decision on whether to run for president in 2020.
FROM THE BLEACHERS
"First, let's assume the polls are correct. If do, it any wonder considering the constant barrage of the Democrats, media, and never Trumpers have going on every airwave? On the contrary, I think you and the polls are wrong. People elected this man on the belief that he cares about the PEOPLE, not the establishment. Because of that, and in spite of Cohen and Comey's lies, this isn't going the way the Trump haters want." – Ron Lawrence, St. Cloud, Fla.
[Ed. note: Mr. Lawrence, I assure you from the tips of my toes to the top of my head that I have no idea how this story ends. And anybody who tells you they do is either kidding you or themselves. There are so many potential scenarios for how this one ends and we know so little of the total picture that guesswork is not just pointless but counterproductive. We could see the president substantially exonerated, we could see him inculpated by has associates. Who knows? I do believe the president's decision to deceive voters about the payments to sex workers was a serious political mistake that did a great deal to undercut his credibility with persuadable voters. It was unnecessary since it wasn't necessary for supporters like you who are eager to forgive any infraction as long as it helps defeat "the establishment" and did nothing to convince skeptics to whom his denials sounded fanciful from the start.]
Share your color commentary: Email us at HALFTIMEREPORT@FOXNEWS.COM and please make sure to include your name and hometown.
SO YOU'RE SAYING THEY'RE NOT GOING TO LIVE ON A FARM?
Palm Beach Post: "Amei Francesco-Folsom arrived home on a Thursday afternoon to find blood all over the streets in her Palm Springs [Fla.] neighborhood. Her husband, Greg, informed her the blood was from neighborhood ducks and she subsequently called her town's maintenance department to have it cleaned. However, she soon discovered it wasn't there by accident. The Lakewood residential community is removing ducks — violently. In late-November, men dressed in dark blue, carrying guns and orange buckets started walking through the neighborhood. They work for Allstar Animal Removal, a licensed wildlife removal company contracted by the homeowners association. … 'They explained to us that people were complaining of their kids slipping on (duck) poop in the playground and on the sidewalks,' homeowner Aaron Nagler told The Palm Beach Post. 'As a resident of Lakewood it bothered me to see two guys chasing a duck around with one holding what appeared to be a rifle in his hand.'"
AND NOW, A WORD FROM CHARLES…
"This time you have gone too far, Big Bro'. The sleeping giant awakes. Take my shoes, remove my belt, waste my time, and try my patience. But don't touch my junk." – Charles Krauthammer (1950-2018) writing in the National Review on Nov. 19, 2010.
Chris Stirewalt is the politics editor for Fox News. Brianna McClelland contributed to this report. Want FOX News Halftime Report in your inbox every day? Sign up here.
Original Article : HERE ; This post was curated & posted using : RealSpecific
Thank you for taking the time to read our article.

If you enjoyed our content, we'd really appreciate some "love" with a share or two.

And ... Don't forget to have fun!